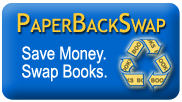 PaperBack Swap is a FREE community to swap books with other members. For every book you post and send to another member you receive a credit. Credits are used to request books (paperback, hardcover, audio books, and textbooks) from other members. Some perks for newbies are : 2 FREE book credits for listing your first 10 books (you will be able to immediately request your first 2 books)!
It is really easy to use, all you need is an email address and a mailing address, and again it is FREE to join!
While there are other swapping communities, PaperBack Swap is by far the best in my book, it is the only one of its kind that I belong to.
According to the site, Member Savings is $13,047,397.95 and has 3,542,913 books available! PaperBack is fantastic, check them out....